a Bruce Mau's original idea revisited by ERG's students in Graphic design / 2012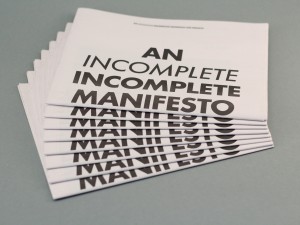 FR/ Être graphiste c'est aussi adopter une attitude, une éthique, une position cohérente face à la création et au travail de commande.
Les zones de turbulences actuelles de la société laissent clairement percevoir le besoin des individus de se rassembler autour de valeurs communes. Ces périodes d'incertitude ont vu, par le passé, et voient actuellement émerger des regroupements d'idées, des actions citoyennes, des prises de positions,?… qui s'organisent bien souvent autour d'un texte, un manifeste,?exposant une vision qui permet de rassembler. C'est également vrai pour les graphistes, si on en croit le texte écrit par Bruce Mau*, en 1998.
Les étudiants ont été invités à travailler sur des extraits choisis de ce?«?Manifeste?incomplet?», tout d'abord lors d'un travail manuel de reproduction typographique de la Futura en grand format sur calicot, pour ensuite confronter ces phrases  à un?environnement extérieur.? Ce déplacement interroge le contexte dans lequel ils ont photographié chaque précepte pour faire sens en l'argumentant.
En résulte cette publication, éditée et designée par l'ensemble de l'atelier, sous la forme d'un journal gratuit qui nous semblait être le format le plus adapté à la distribution des idées d'un manifeste.
EN / Being a graphic designer is also about adopting an attitude, a set of ethics, a coherent position towards the work to be created and the order to be fulfilled.
The turbulent times that society is currenty experiencing suggest that there is a clear need for individuals to gather around shared values. As in the past, these periods of uncertainty are currently witnessing the appearance of groupings of ideas, citizens taking action, taking a stand… and very often they are gathering around a text, a manifesto which expresses a vision which serves as a rallying cry.

This is also true for graphic designers, if we are to believe the text written by Bruce Mau* in 1998. This text, in the form of a charter, sets out the convictions, strategies and motivations of the creative in his daily work.
The students were invited to work on extracts chosen from this "incomplete manifesto", initially by way of a manual piece of typographic reproduction of Futura at large font size on a banner, and then to confront these sentences with an outside environment.
By moving the statement, the context in which it was photographed is thrown into question, its sense open to new argument.
The result is this publication, edited and designed by the whole workshop, in the form of a free newspaper which seemed to us to be the most appropriate way to distribute the ideas of a manifesto.
Caroline Dath & Isabelle Jossa
Students in Graphic Design (Bac 2)
École de Recherche Graphique – Brussels
Nils Grauerholz / Charlotte Chauvin / Nothelier Violaine / Marie Fouasson / Mathilde Le Moal / Marine Gabaut / Stéphan Garcia / Alexis Pétard / Quentin Liard / Julien Petrequin / Pauline Peeters / Isabella Simi / Morgane Stameschkine / Eléonore De Belva / Laurent verbeke / Noémie Van Bruegen / Daniel Canario Silvano / Boris Schpynda / Lysiane Ambrosino / Matilde Gony / Diana Difino / Nina Brebant / Iulia Buruiana / Violaine Launay / Sophie Van Nerom / Candice Rosier / Adrien Domken??/ Missak Vehouni / Merlin Meuris / Jérémy Bobel / Margotte Garnier / Ella Duret / Florence Lorent / Loic Polomé
§ 205 Responses to "An Incomplete (Incomplete) Manifesto for Growth"